Got a child with special needs? Or a kid who needs a little extra help? Looking for some fun, yet educational games to do with your learners? Today's review is for you!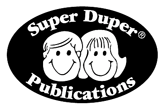 Company Information: Super Duper Publications is a company that specializes in fun learning materials for kids with special needs. Their 280 page print catalog boasts tons of products from apps to games to computer software to Fun Decks (special activity cards). Their products are designed for children with special needs, such as autism, hearing, speech or  motor  difficulties, or those who are bilingual. However, I do not think their products are limited to kids who have special needs! They look like great fun for all kids!
These products are not necessarily restricted to the homeschool setting, and may even be created for the public sector. However, many of them can be geared for home use.
Product Reviewed: For this review, I received their CD-ROM, Webber Hear Builder: Following Directions Home Edition.
This program consists of 5 different sections, with a toy factory theme. The children go through increasingly more complex exercises that help them to learn how to follow directions, starting with basic ones like "click on the blue dog." With each level, the kids are challenged to incorporate more and more information before they make their choice. As they finish each "room" they learn how to process
Sequential Directions
Quantitative & Spatial Directions
Temporal Directions
Conditional Directions
The program is designed specifically for children with auditory processing difficulties. There are many ways to customize the program to fit the needs of your kids as well as track their progress. Click on the image to find specific details!
Age Recommendation: Ages 4-9 or Grades PreK-3
Price: $69.95 (UPDATE: SEE SPECIAL OFFER AT END OF POST TO SAVE 30%! EXPIRES AUG. 31, 2012)
Parental Preparation: None. Just put the CD-ROM in and follow the directions in the manual (which are pretty standard).
How We Used It:
When we received the package in the mail, my youngest son Jonathan immediately asked, "Is it for me?" Even though it was not our normally scheduled school day, he wanted to jump right in! Each day, we work through the program, about 15-30 minutes at a time. I usually have to tell him we need to stop, as he would probably keep going all day.
The Basic Directions level started out simple enough. Jonathan had minimal computer experience before, off and on, but he quickly mastered the mouse. He whizzed through the first couple levels, but by the third or fourth level, he quickly became overwhelmed by all the directions. When we discovered that there was a "repeat" button, he was able to listen repeatedly. This came in handy
, especially when we got to this game:
In it, he was required to listen to a string of directions to build a toy. He had to choose the right color, shape, size, temperature and action and hold that information in his head. At first it was two attributes, then increased to three, four and five step instructions! I had to encourage him to listen selectively for the important words. We found for him that it was easier when he verbally said the key words in the string of directions.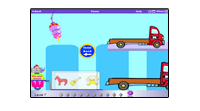 I did not set any limits on Jonathan, but we would work through things until he got a little frustrated. Each of the "doors" were progressively more complex, so I tried to stop when it got too challenging. Sometimes it was due to his comprehension level. It gave me some ideas on concepts I need to explore with him. I guess I'll need to work prepositions into his vocabulary!
As an extension, I started using the format of the games to begin bringing the vocabulary and skills he was learning into real life. For instance, when it was time to clean up, I said to him, "First please pick up the cars. Second, pick up the tools. Next, put your socks in the hamper. And finally, get your pajamas." He recognized this type of sequence from the game and was able to carry out my directions. I'm also planning to take some of the other words he had trouble understanding and creating a game out of it before trying it out on the screen.
I was so tickled when he told me he was making a list of things he had to do that day. In his preschool writing (3 letters repeated over and over can say a lot!), he wrote out his routine and told me that this was his work. There was a definite sense of order and he tackled that list of his own making and was quite proud of himself! It made me realize how many practical applications these games had! I am a firm believer in not just playing the games for their own sakes, but for me as a parent to try to find ways to extend the skills into real life.
Even though these games are designed for kids with auditory processing difficulties, Jonathan was plenty challenged. I think they really forced him to listen carefully. He tends to hear the instructions but they require him to pick the most important pieces out. I am trusting that this CD-ROM will get plenty of use, especially when Anah arrives! The home edition allows up to four players, so there is plenty of room for us.
What We Liked:
No parental prep necessary for me! No manuals to read or study beforehand or lesson plans to prepare. Just insert disk and go!
However, I do want to say that the last few pages of the instruction manual were helpful in explaining what auditory processing difficulties were and what were some of the possible symptoms. I learned something new in reading these pages that helped me to be aware of what is involved in the process of hearing, listening and comprehension. The list at the end also helped me to have a specific list of the words used so that I can incorporate them into my dialogue with Jonathan, and later, Anah.
The game is visually appealing, runs smoothly, and has a little "story" to it. When Jonathan wanted to skip around to the higher levels, I had to explain to him that there was an order in these games as well.
It is easy to track your progress. Both screens and records help you to see exactly what you have done for the day. You can print out these out for your files if needed.
Suggestions or Improvements:
Nothing! We really enjoyed this product as is.
Overall Summary:
If Jonathan's enthusiasm to keep playing these games every day is any indication, I think we found a winner. I am so glad that we were introduced to Super Duper's line of toys and I know I will definitely be coming back to look at their other products!
Super Duper Publications is not just a company that sells educational products, but one that also educates educators and parents. I found a treasure trove of handouts with practical ideas on over 360 topics pertaining to special needs. It looks like a new article is posted every two weeks. Each article also includes suggested products from their catalog that can help you to develop these skills. Be forewarned, however, that you do need to create an account to access these pdf files, but I think it is highly worth it. As a future parent of a special needs child, I know I can use all the help I can get! As a parent, these can help give you insights on how you can help your kids at home.
If you are a homeschooling parent of a child with special needs, you may wish to look into investing in some of these products to enrich and help you in creating an educational program that helps you to work on these areas. If you do not homeschool, having a few of these activities in your back pocket can help you supplement and encourage your children's progress in a fun way at home even if you are not a professional.
UPDATE: Now, until Aug. 31, 2012, the nice people at Super Duper are offering a special on this particular program. Here's the details:
When you check out, enter the Coupon Code BLGFD30 to save 30%   
Disclaimer: I received a copy of Webber HearBuilder Following Directions CD-ROM free of charge in exchange for my honest opinion. If you'd like to read more reviews on this product, click on the banner below! There are several other products from Super Duper being reviewed, along with special offers. If this one doesn't fit you, there may be another product that will. Check it out!