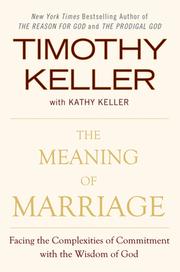 Next month, my husband and I will be celebrating our 19th anniversary. As with most couples, we have had our share of happy seasons, hard seasons, and hectic seasons. There were times when we couldn't imagine things getting any better. Then there were times when we couldn't imagine them getting any worse. There are days that were exhilirating and exciting. There are days that are humdrum or downright difficult.
As Tim Keller, author of The Meaning of Marriage, would say, "Marriage is glorious but hard." Yeah, that about sums it up, doesn't it? Being married to another sinner can easily take the gloss off Hollywood's shiny veneer. And yet, for those who are willing to persevere in our marriages through the hard times, the ugly times, the painful times, there is a glorious reward at the end.
I picked this book up to read because our church's young adult group was going through it. I was intrigued when my husband mentioned that this was their topic of study. Singles reading a book on marriage? When I read the introduction, I realized why.
Have you ever wondered why you got married in the first place? Or if you are single, why you desire to be married? In hindsight, I know that nineteen years ago, my motivations for getting married were very selfish. I'm just saying! Even though I vowed to commit myself to someone for better or for worse, I really was just thinking about myself. If I am going to be really honest, I know I still am.
As I read this book, I realized how small my own vision for marriage really was. While reading, I learned that marriage was: 1) designed to reflect Christ's saving love, 2) refine our character, and 3) create a stable human community for the birth and nurture of children. God certainly does use other means but marriage provides a perfect place for us to realize all these three goals. Even so, while it is perfect, it is not easy. And yet, this is where having a strong vision for our marriages will help us through those tough times.
If you feel like you're stuck in your marriage, frustrated, getting nowhere, I encourage you to pick up this book. It's not difficult to comprehend, but it is a challenging read. In a world where love is equated with feelings and happy emotions, it is not easy to read that love is an action, even when the other does not like it, return it, or appreciate it. There were many times while reading that I was convicted at how small and how lightly I viewed marriage.
I wish I could say that it changed our marriage simply by reading it. It didn't. But that doesn't mean it wasn't helpful. It's going to take a long time, especially when my natural tendency is to rebel against what I've read, to see changes. If anything, I must admit that I am still praying that God will make me want to want His vision for marriage in my own heart.
Even if your marriage is perfect (let me know if it is), I think this would still be a good read as we seek to help the next generation build a healthy vision and view of marriage. Dr. Keller writes very insightfully to this generation of young adults after pastoring many singles at Redeemer Presbyterian Church in New York City. He knows what the trends are and what that means for our young adults and ultimately, our children. If the Lord has blessed you with the opportunity to minister to young adults or have children on the brink of marriageable age, I would say this would be a great read to help us to help them gain a vision for what marriage can be like.
Unlike Hollywood, God does not fool us into thinking that good marriages never have trouble, or if they do, they can be solved in a two-hour time frame. Good marriages are not just about good sex, romance, or thrilling adventures. Rather, He faces the fact that as sinners, we are going to mess up. We all have the potential to ruin a good thing. And yet He gives us the hope that despite our fallenness, He can still grow us and use us to bless our spouses and children in the context of marriage. Our world may have given up on it, but He hasn't.
And neither should we.