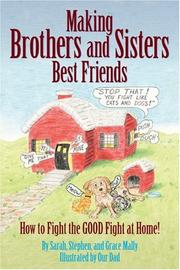 ; Tomorrow's Forefathers 2002
 I grew up the oldest child, with one brother and two sisters. I wish I could say that we are all best friends now, but that wouldn't be telling the truth. While we are not at odds with each other and we still get together for major holidays, I know that there were more times when we tolerated one another instead of enjoying each other.
So when I saw the title of this book, I was immediately intrigued. Sarah, Stephen and Grace Mally are brothers and sisters that not only enjoy each other, but have teamed up together to serve the Lord together and to minister to others. What made it more interesting to me is the fact that Stephen is adopted. And as anyone who has both biological and adopted children knows, that can be an interesting journey to take! (Even if you don't, it's still a challenge!)
I enjoyed this book because it gave the perspectives of each of the children: firstborn, middle child and the baby of the family. What I appreciated most was the emphasis on learning how to treat your family well. So often, we treat everyone else better than our own siblings. And yet, the kids reminded me that I need to not just accept the fact that "that's just the way siblings act," but to call my kids to a higher standard.
If we allow our children to treat each other like dirt at home while pasting on Sunday faces at church, we are only enabling them to be hypocrites. As a mother, I need to tell this to myself! It is so hard to love those you see all the time, the ones that know you best, the ones that mess up your bedroom, break your toys, or take forever in the shower. And yet, can you imagine---if our kids are able to love their brothers and sisters sincerely, how much better prepared they will be for their future roommates and spouses!
Even though this book was written by kids (22, 16, and 12 years old at the time), I thought it was very well done. It was written for kids, but I think it's a great read for parents---so we have a better idea of what we can discuss and work on with our kids!
No, this book won't tell you how to keep your house from becoming a war zone, but as it says in the subtitle, it's all about learning "how to fight the GOOD fight at home." Instead of pitting one sibling against another, it has given me a vision for how my children can join together to fight for Christ and His kingdom.
If you have just tolerated sibling rivalry, screaming and yelling, and catfights, then I encourage you to think again. I think the Mally siblings have done a great job in convincing me that there is another option. I hope they will encourage you too.