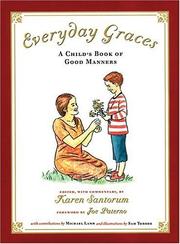 While I was reading Dr. Dobson's book, Bringing Up Girls, this month, I was challenged to look into more intentionally teaching manners to my children. In one of his chapters, he included an interview with Karen Santorum, wife of Rick Santorum, former presidential candidate and author of Everyday Graces.
As I have found, stories are often far more effective than lectures in reaching the hearts of my children. Everyday Graces, however, is not your ordinary anthology of children's literature. Instead, each section of the book focuses on a particular skill, such as good manners at home, using words wisely, table manners, washing and dressing, etc. Within these sections are subsections that focus on even more specific lessons.
What makes this book unique is that it seeks to move beyond just good manners and outward behavior, and into the heart. In her opening note to parents, Mrs. Santorum writes, "When we speak of politeness, we may think of something that can be easily learned from reading an etiquette book. Such may be the case with simple, isolated behaviors like selecting the proper fork or keeping ones elbows off the table. But true politeness requires more. For it is the mirror of a person's heart and soul--it is an outward expression of inner virtue. And inner virtue is best learned through constant practice and examples."
From simple rhymes to longer selections, this book is full of wonderful examples. Classics and hidden treasures can be found in its pages. Along with each selection is a little commentary you can read to your children, using it as a springboard for your own discussions. The selections vary in length, but because they are stories, children usually have no problem sitting for these "lessons."
I have not started reading this yet to my children, but it has inspired in me a desire to not only teach my children basic academic skills, but to consider actively incorporating teaching on manners and politeness as well. (And I have to say that it is not just my children who need the help!) This 380-page tome will keep us busy for years to come. I hope to start with the poetry and easier selections for Jonathan, and as he grows, keep cycling through the various topics at increasingly deeper levels.
I usually don't write reviews before reading a book from cover to cover, but as we have been discussing books this month, I didn't want to wait on this one. My prayer is that as a result of going through this book together, my children will have a larger heart for God and for others.