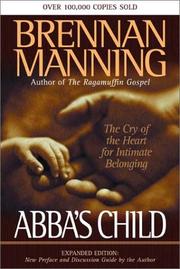 Of all the spiritual disciplines, I find prayer is the most difficult. I'm not sure why. I can pray for others or for a reason or in a ministry context. Despite the many years of ministry under my belt, there are times when I wonder if God would want to hear from me otherwise. I do not find it hard to read and study His word. I love making time for solitude. And yet, somehow I don't always feel completely safe in His presence.
All my life, I have never really felt like I belonged anywhere. Or if I did, it was not where I wanted to belong. And so I would try to be what I was not so that I could belong where I wanted to be. I still feel that way today. While I know that God has called us to homeschool and to adopt, I don't always like being pigeon-holed into those communities. Sometimes I wonder why God has led me and our family into such lonely paths. I didn't feel like I belonged anywhere.
I had read one of Brennan Manning's other works, Ruthless Trust, many years ago, and had wanted to read this one as well. I'm not sure what prompted me to purchase a copy this year, but it must have been a God thing. Maybe it's because I have been feeling very alone this year, trying to figure out the complexities of adoption, caring for a special needs child, and still trying to go on with life.
All my life, I have worked for approval, and therefore a good "seat" in the house. Now that I'm not "doing" anything other than toilet training, homeschooling, and managing our home, I do not hear words of appreciation or approval. Sometimes I wonder if God is punishing me for something instead of blessing our family. There are times when I feel that even He has left me to do the work alone.
As with many of his readers, I found the chapter entitled "The Imposter" the most helpful. Being hidden and quiet this year has made me have to face sides of myself I would rather not see. It is easy in the midst of a busy life to feel like you're someone important. When all the fanfare fades away, and all that is left is yourself, it is rather disconcerting to see yourself as you really are. I begin to see my imposter feel antsy, depressed, and hollow.
And yet, this is exactly where Brennan Manning says we need to be. He writes, "The imposter must be called out of hiding, accepted, and embraced. He is an integral part of my total self. Whatever is denied cannot be healed. To acknowledge humbly that I often inhabit an unreal world, that I have trivialized my relationship with God, and that I am driven by vain ambition is the first blow in dismantling my glittering image. The honesty and willingness to stare down the false self dynamites the steel trapdoor of self-deception." (p. 43)
Before I can move ahead with God, I need to acknowledge my imposter---the me who wants to be noticed, the one who wants to belong, the girl who thinks she is the center of the universe. That is a hard thing to do, but as he says, "whatever is denied cannot be healed." Yet, without healing, I will continue to spill out my brokenness on those around me, especially on those I want to love the most.
I wish I could say that this book has revolutionized my life and changed me 180 degrees. Usually it takes me a couple of readings, and this one, while easy to read, is sometimes hard to grasp. Sometimes Brennan Manning's writing is a bit mystical and hard to comprehend, and yet it has tapped something in me that has become buried in the busyness of life.
This is one of those books I will need to revisit, preferably in a quiet place, alone. If you pick this book up, take it with you on vacation and read it at leisure. Soak up the truth that you are Abba's child---loved, treasured, cherished. And as you do, may it give you the courage and hope to walk back into real life, ready to do it all over again, this time with Him by your side.
For with Him, we are never alone.