I don't know about your neck of the woods, but we've already had a few 90 degree days here. Besides the warmer temps, the beginning of May also signals the beginning of the end of the school year for many. We like to take our summers easy, which is not the same as saying we don't do anything! We just like to try to do different things and enjoy the time with others. 
With the more laid-back schedules, however, I still like to keep my kids (and my) brain going. One of the easiest ways to do this is by reading. And so for the next month, I thought I'd share with you some of the books I've been enjoying. And what better way to kick off a series like this than with a couple good books on, you guessed it, books!
All over the country, libraries are gearing up for their summer reading programs. For kids who have a hard time reading without some incentive, they may be a great means for giving them a jump-start. With the overwhelming array of books in the library, how does a mom help her child navigate through all these volumes?
Children's literature nowadays isn't always as tame as it was when we were kids, and we as parents do need to be careful with what is out there. Children's minds are too good a thing to waste on poor literature, but unfortunately, there is a lot of twaddle out there mixed in with the good. Not only that, those who desire to push alternative agendas know that the best way to do it is by influencing kids at a younger and younger age. These "PC" picture books may look innocent enough, but their message may not be appropriate nor desireable for your children.
For me, I have found it extremely helpful to stick with the time-honored classics of children's literature. Over the past couple of months, I have read two excellent books on the subject, one written back in the 1980s, and one published more recently. Both of them not only share lists of excellent books, but also help parents to build a taste for good literature themselves.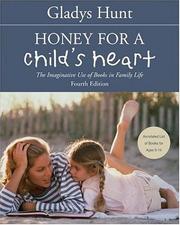 The first one I'd like to suggest is Honey for a Child's Heart by Gladys Hunt. I've had this book on my shelf for a few years now and have finally been able to read it through. Not only does Mrs. Hunt provide suggestions for books for children from preschool on up through high school, she also provides a Christian framework from which to think. Throughout the book, she emphasizes the discipleship aspect of reading good books to our children, writing, "We not only have a heritage; we are giving our children one. We decide what kind it will be."
That thought struck me. Right now, I am helping my children form their heritage. Will it be only filled with busyness and activity, bluster and noise? Or am I filling their young minds and memories with great thoughts, challenging insights, and food for the soul? Reading Mrs. Hunt's reminder made me commit once again to enjoying books with my children. Fortunately for us, with Jonathan growing up, we will have a chance to enjoy many of these classics of children's literature again. I am going through and using the book to make a reading list for our family to enjoy, not only in the summer, but in the school year to come.
The second book I'd like to suggest is Read for the Heart by Sarah Clarkson. I reviewed Sarah's Journey of Faithfulness for the review crew last year and love her beautifully written and descriptive prose. Each chapter is devoted to a different genre of children's books, including books on poetry, music and art, several areas I manage to gloss over. With each chapter, Sarah shares how these different types of books have shaped her understanding as an adult. Can I tell you that I was drooling over the books she suggested as I was reading?  With both of these books, there is some overlap, because---let's face it---some books are simply classic and stand the test of time. But Sarah Clarkson's book does include some of the more excellent modern literature that is out there today.
One of the things that I have been reminded of is how powerful a good story can be. Good books can become good friends, and in the pages of a book, our children can be introduced to situations and circumstances they might never otherwise encounter (and hopefully never will!). I remember well how, when Janna and I were reading A Little Princess by Frances Burnett, I couldn't put the book down! I just had to find out to what happened to poor little Sara Crewe. Janna didn't have to lose her fortune to feel Sara's pain. She didn't have to endure the taunts and jeers of classmates where she was once the princess. Reading her thoughts in the midst of her suffering helped not only Janna but myself to remember that a princess is not a princess on the outside, but one on the inside.
So moms, let's take an active role this summer in making our children's lives rich. Instead of just spending all our time chauffeuring them to every activity under the sun, let's escape the heat by enjoying a good book together. I hope that these two helpful volumes will assist you in choosing a vacation destination worth remembering!